So this is about two months overdue, but...
Say hello to the newest member of our family. :)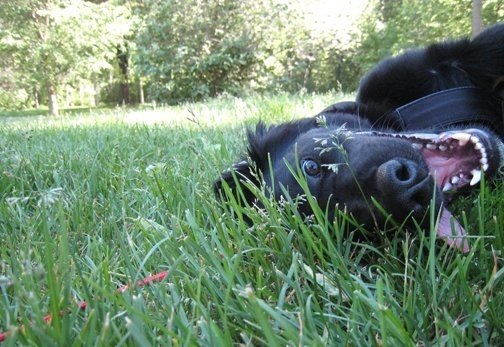 So far the reactions from the other kids are:
Pickle: "Whatever. When are you going to feed me?"
Bebop: "You leave me alone, I'll leave you alone."
Oscar: "What are YOU looking at?"
Cooper: "DIE!!!!!!!!!!!"
Her hobbies include rolling around in the grass, swinging her tug-of-war toy wildly (which we've since dubbed her 'dog-chuk'), racing around excitedly in the park after she successfully does her business, and carrying rawhide bones around in her mouth gingerly, as though they were prized treasures.
We're not exactly sure what type of dog she is, since she was abandoned at the vet clinic Marci works at, but a flat-coated retriever looks pretty darn close.
She just got back from having a triple pelvic osteotomy (try saying that three times fast) to treat hip dysplasia. She has to take it easy for 8 weeks and then we'll go racing around the park again. :) (Yes, that's right. Webchick goes outside every now and again these days. ;))