Now that the Drupal.org redesign is underway, Neil Drumm is currently collecting suggestions for what a revamped Drupal Association website might look like.
The current website was created in a few days back when the Drupal Association was first founded in 2006, and hasn't really received a great deal of attention since then (shoemaker's children, and all that). The current site's content can basically be distilled into three things:
1. Outdated news you already heard somewhere else first.
2. Give us money.
3. Legal mumbo jumbo.
Unfortunately, there is very little emphasis on "awesome stuff the Drupal Association is working on and how you can help." That's something I think we need to change, to both help give the community assurances that their money is being spent wisely, and also to give the larger Drupal community on-ramps to directly help the Drupal Association members achieve their mission of supporting the Drupal project.
Here's a wireframe I came up with at Way Too Late O'Clock that needs a whole bunch of work but is one approach: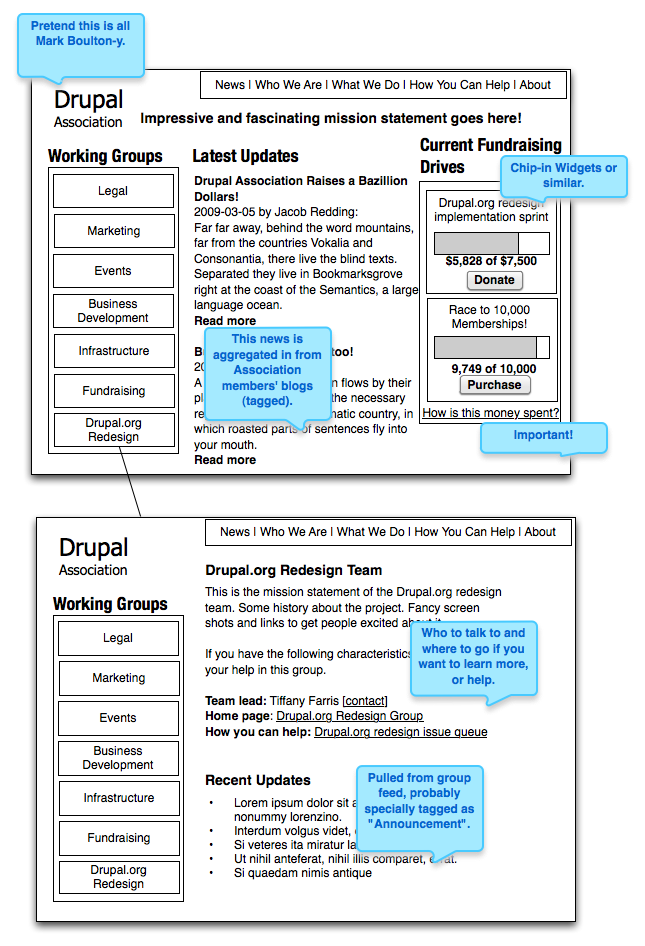 The idea is to both emphasize larger spheres of responsibility that the Drupal Association has, and also highlight both what's happening NOW as well as an archive of what we've achieved in the past.
How about yourself? Do you have thoughts on what you'd like to see in a revamped Drupal Association website? Want to play wireframe ping-pong? I'll collect any responses given here and send them off to Neil on Wednesday, March 19.